Fujitsu Heat Pumps Whangarei & Northland
The Fujitsu range of Heat Pumps are the most efficient available in New Zealand. Heat Pumps are a 'no brainer' alternative to standard gas electric heaters, providing an energy efficiency saving over traditional heaters by a factor of 5. As well as their primary heating function, heat pumps are also designed to provide air conditioning functionality in summer, whilst simultaneously removing dust and toxins from the air, improving a home or business air quality throughout the year. Whether it is energy efficiency, bill reduction or air quality improvement,heat pumps are so effective, that the government actively encourage their inclusion over traditional heaters, based upon the vast improvement on energy efficiency that heat pumps represent.
Why install a heat pump in your home?
Heat Pumps are an exceptional way to maintain a comfortable, steady temperature throughout the year. Perfectly able to cope with the sometimes severe annual temperature fluctuations of the New Zealand climate, a heat pump ensures that maximum energy efficiency is used. Every $1 worth of energy used to drive a heat pump results in $4.50 worth of traditional heating (Energywise, 2015). Simply put, installing a heat pump can reduce your heating bill by a factor of 4, roughly equating to $150 a year (EECA).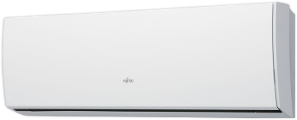 This financial standpoint is the most obvious, the cost of a heat pump can be recouped very quickly, and the cost of not having one may be bigger than you expect. Many New Zealand homes, especially those built before the 1990s have very little insulation, and air quality is not good. This has led to a surprising national trend of increases respiratory disease, especially asthma, much of which has been put down to fluctuating temperatures of humid air within homes. A heat pump will significantly tackle this issue.
Heat Pumps – How do they work?
How can a small invention make such a significant improvement on clean, efficient heating? Heat pumps do not use a traditional heating element, (which is what causes traditional heaters to drain your electricity bill). Instead, heat pumps work by transferring heat between two connected coils, one inside and one out. This way, excess heat in summer and cold in winter are transferred away from the home. The energy used, though limited, is to circulate the air within the home, ensuring an even result throughout.
Choosing the right Heat Pump
There are a vast range of heat pumps available to buy. This is because the technology has become so advanced that small changes to the design of the heat pump can have dramatic effects on the energy efficiency and results in different locations. Heat pump reviews are a great way to see how well certain heat pumps work in certain situations, but there is no better way than simply speaking to an energy expert, who will be able to make sure that the ideal heat pump is selected for a certain location. This way, you can ensure that the maximum results, and savings, are chosen.