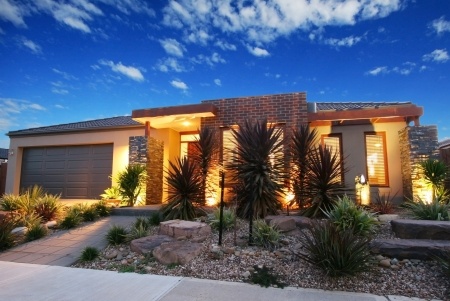 Investing in garden lighting is about more than just illuminating your outdoor areas at night. Even when you are in your home, great lighting can create a warming and comforting effect. When you return to your house from work, a well-lit path can help you feel secure. Choosing garden lighting involves assessing your wants, practical issues, and costs. With careful consideration, there is no reason why you cannot plan the perfect layout.
What Sort of Garden Lighting Would You Like?
Currently, there are enough garden lighting options out there to make your head spin. You need to consider whether you want to flood your garden with light, or simply leave little traces of it here and there for a whimsical effect. You could use accent lighting to highlight that pretty tree you have been growing, uplighting to make the most of a feature wall, or downlighting to accentuate your flora and fauna.
When deciding what type of garden lighting you would like, consider the following:
Do you want to light up the whole garden so that everyone can sit outdoors at night? Or would you like to string some lights here and there as an aesthetic feature? With the right lighting control, there is no reason why you cannot do both.
Is there a particular feature you want to highlight? If so, how would you want to highlight it? For example, you may want to use uplighting on an ornament to make it stand out.
Maybe lighting is more of a safety feature for you. If so, what is it that you need to make safer? This could be a set of stairs that are easy to lose your footing on, a path you feel is too dark, or something similar.
Fortunately, modern lights don't have to be ugly or utilitarian. You can opt for dainty fairy lights, uniquely shaped solar lights, and lights with motion sensors. When choosing these lights, always consider what it is you want to do, and whether the fittings you have your eye on are going to fulfil the desired purpose.
Which Fittings are Practical for Your Garden?
Understanding which lights you want is half the work, now you need to determine what is practical. Depending on the lights you need, you may want to keep them connected to the mains. This is certainly the case for floodlights, in which case an electrical installation is needed.
In addition, you need to know how you want to control the lights. You might want them to sense you're there, you may need a switch, or you may want to dim them. Remote controlled lighting is also an option, especially if you want to set a particular ambience.
If you are interested in saving money, you might want to consider solar lighting. Some solar lights do not require an external connection, which means you have a lot of flexibility when it comes to laying them down. The only down side to such lights is that you cannot always rely on them catching enough sun to illuminate your garden as you wish.
Finally, look into options that will go the extra mile. Outdoor lights take a lot more wear than indoor ones, which means you may want to consider LED. LED fittings are less likely to break, they don't overheat, and they are quite cheap to run. Bearing such details in mind when you plan your garden lighting can save you money in the long-term, and will reduce maintenance costs for the future.