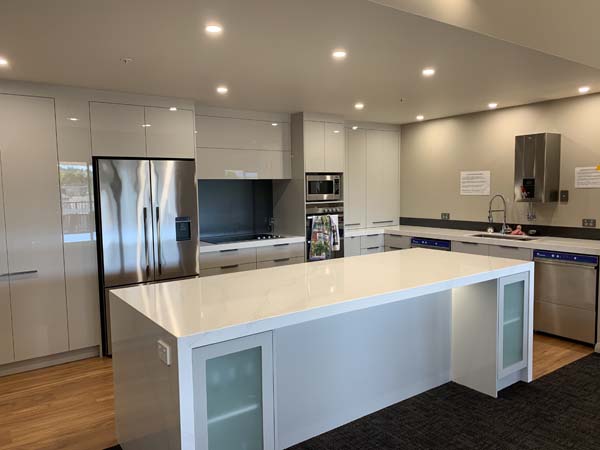 The Palms Lifestyle Village is a family owned and operated retirement complex in the heart of Tikipunga. Over the past 10 years, The Palms has not only seen massive growth with new retirement villas being built. The lifestyle and comfort of residents has also significantly increased with the establishment of a community centre that houses a range of entertainment options such as a heated pool, a gym, a movie theatre and much more.
Throughout the entire journey, Potter Electrical has been a trusted partner, providing staff and residents at The Palms with customized energy solutions to meet everybody's needs. Each of the 194 2 to 3-bedroom villas completed to date was fitted with customized lighting and power installations as well as individual solutions for electrical appliances. Working with speed and efficiency and adhering to the highest quality and safety standards, electrical work on each villa only took a few days to complete.
By choosing Potter Electrical as their main electrical contractor, The Palms opted to receive reliable service for every single project as well as a local business that is big on providing solutions for any problem at hand, no matter how big or small it may be. The team at Potter Electrical listens to and understands the needs of village residents, working exclusively with each new tenant to ensure their requirements and needs are being met.
No wish is too extravagant, no detail is being left out. Many residents have commented on the excellent work our certified master electricians have performed, their politeness when dealing with tenants and staff as well their tidiness when a job is finished and the ease with which electrical appliances can be operated.
Just recently, Potter Electrical has completed the first stage of wiring the new Community Centre within the retirement complex. Not only will it allow residents to enjoy a range of social activities, it will also help The Palms keep their energy expenses low. The entire centre is fitted with energy efficient lighting systems which are triggered by occupancy and will only turn on if required. No more worrying about somebody leaving the lights on all night.
Potter Electrical and The Palms Lifestyle Village also complement each other beautifully when it comes to keeping things as safe as possible for residents. Not only does Potter Electrical maintain the entire electrical set up within the village, responding to callouts in a very timely manner should issues arise. Our teams have also installed lighting solutions around the village along walkways, streets, the gardens and the petanque course, making it safe for residents to navigate their way around at any time.
With their retirement homes on offer, The Palms prides itself to provide 'value for money and quality for life', a philosophy we at Potter Electrical fully support. Due to our excellent customer service, our expert knowledge in the electrical industry and our long-term experience, Potter Electrical remains the main contractor for The Palms Lifestyle Village for the foreseeable future. We will continue to provide safe, smart and energy-efficient electrical solutions for upcoming projects and expansions which include additional apartment blocks for new residents and further social hubs for gatherings and activities.
If you would like to know more about how we helped transform The Palms Lifestyle Village and the work we will be undertaking in the future, please contact the friendly team at Potter Electrical today. Our master electricians provide customers throughout Whangarei and Northland with committed, reliable and premium-quality service. Whether your property is industrial, residential or commercial, we are happy to talk to you about your electrical needs, so why not get in touch and receive a free, no-obligation quote.